Performance and Accuracy
AMBER 18 midpoint beta Mixed-precision accuracy
In addition to the traditional full double precision implementation used in the PMEMD CPU code the AMBER 18 midpoint beta also introduces a mixed prevision model, first pioneered with the AMBER GPU implementation, termed SPDP. This precision model uses single precision for each particle-particle interaction but sums the resulting forces into double precision accumulators. This precision model was established as sufficient for accurate MD simulations and shown to conserve energy in the original AMBER GPU publications and has been tested to the same degree of tolerance as part of this new CPU optimization. The benefit of using mixed-precision is that it provides improved performance, both serial and parallel, since all modern Intel CPUs can perform two single precision floating point calculations for the cost of a single double precision floating point calculation. The figures and table below provide the validation data for AMBER 18 DPDP and SPDP compared with AMBER 16 DPDP as reference.
<![if !vml]><![endif]>

Figure SEQ Figure \* ARABIC 1: Cellulose

<![if !vml]><![endif]>

Figure SEQ Figure \* ARABIC 2: DHFR

<![if !vml]><![endif]>

Figure SEQ Figure \* ARABIC 3: FactorIX
DHFR

Factor IX

Cellulose

STMV

Max deviation

A18 SPDP

8.6E-04

1.9E-03

3.8E-03

4.0E-03

A18 DPDP

5.0E-08

4.7E-07

4.9E-07

5.0E-07

RMS deviation

A18 SPDP

5.4E-05

1.1E-04

1.4E-04

1.9E-04

A18 DPDP

1.9E-08

2.0E-08

2.0E-08

2.0E-08
AMBER 18 midpoint beta performance results
Benchmark Downloads: STMV | Cellulose | Poliovirus
The new midpoint based parallel version of PMEMD in AMBER 18 betais now faster and scalesbetter thanPMEMD from the AMBER 16 released version. The following figures show that the AMBER 18 beta is consistently faster than AMBER 16 in the primary benchmarks (Cellulose and STMV) on current Intel processors[Intel© Xeon© Gold 6148 (Skylake) and Intel© Xeon Phi™7250(Knights Landing) processors]. At larger number of nodes, the performance gap between AMBER18 beta and AMBER 16increases, as the former has better scaling efficiency. For example, the figure below shows that AMBER 18 beta is 2.2x faster than the AMBER 16 released code when running the STMV benchmark on a single node Intel© Xeon Phi™ processor 7250.Moreover, the AMBER 18 beta provides 2.5x speedup over AMBER 16 on 8 nodes of Intel© Xeon Phi™ processor 7250 and 3.1x speedup on 32 nodes of Intel© Xeon© Gold 6148 Processorfor the STMV benchmark.In addition to the traditional Cellulose and STMV benchmarks we have also introduced a larger, 4 million atom benchmark based on the polio virus. This represents a large simulation and is thus a good stress test of the midpoint decomposition approach.
Hardware configuration: Intel© Xeon Phi™ 7250 runs at 1.4GHz with 96GB of DRAM and 16GB MCDRAM in QuadrantCache mode. Intel© Xeon© Gold 6148 Processor runs at 2.4GHz frequency with 192GB of DRAM memory capacity. The multinode results are using Omnipath (OPA) fabric on the cluster. The compilers used are Intel compiler version 2017 update2 and Intel MPI version 5.1.3.
<![if !vml]>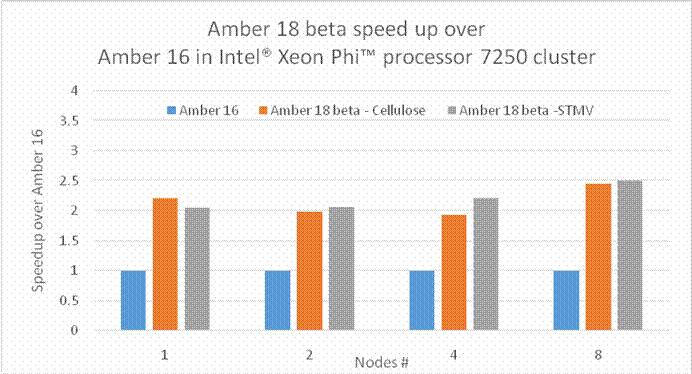 <![endif]>
<![if !vml]>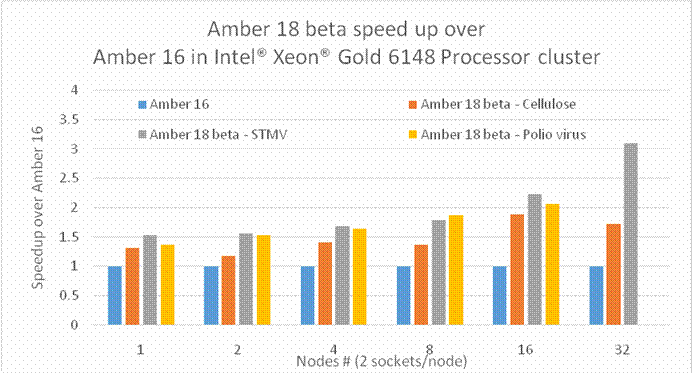 <![endif]>
Currently Supported Features
The AMBER 18 midpoint beta release does not yet support the full PMEMD functionality. We plan to add critical missing functionality in the coming months prior to the production release in AMBER 18.
The AMBER 18 midpoint beta version currently supports: NVE, NVT (Langevin Thermostat), Shake The following features are expected to be supported in the midpoint AMBER 18 release version: NPT, NMR Restraints, TI* (likely to be released after release via update)
Configure, Compile, and Build Instructions
In this Beta release, we advise the user to configure, compile and run on the same Computer. If you build on Intel© Xeon© Processor E7-4850 v2 processor (Products formerly Ivy Bridge), you will get AVX. If you build on Intel© Xeon© Processor E7-4850 v4 (Products formerly Broadwell) you will get AVX2 instruction. If you build on Intel© Xeon Phi™processor 7250, you will get AVX512 instruction. Binaries compiled on Intel© Xeon Phi™processor 7250, will not run on Haswell or previous generation processors. Currently Intel compilers version 2017 update2 and GCC compiler version 6.2.0 are supported and extensively tested for this AMBER18 midpoint beta release.
Add download, update and patch instructions
If you have an AMBER license install here: http://ambermd.org/pmemd.midpoint-get.html
Copy file to your $AMBERHOME directory.
Extract using "tar xvfj pmemd.midpoint.tar.bz2".

Optimized code with mixed-precision (SPDP):
./configure -intelmpi -openmp -mic2_spdp intel
cd $AMBERHOME/src/pmemd.midpoint/src
make mic2 Run in a bash shell:
export KMP_BLOCKTIME=0 # threads sleep right away when idle (e.g., on barriers)
export KMP_STACKSIZE=200 M # Allocate 200 MB for each OpenMP private stack
export I_MPI_PIN_DOMAIN=core # Restricts the threads of each MPI rank in one physical CPU
export OMP_NUM_THREADS=4 or 2 # 4 for Xeon Phi 2 for Xeon

mpirun -np {cores} $AMBERHOME/bin/pmemd.midpoint \
-O -i mdin -o mdout -p prmtop -c inpcrd
#note cores is number of physical cores not hyperthreads
Optimized code with full double precision (DPDP):
./configure -intelmpi -openmp -mic2 intel

cd $AMBERHOME/src/pmemd.midpoint/src
make mic2 Run in a bash shell:

export KMP_BLOCKTIME=0 # threads sleep right away when idle (e.g., on barriers)
export KMP_STACKSIZE=200 M # Allocate 200 MB for each OpenMP private stack
export I_MPI_PIN_DOMAIN=core # Restricts the threads of each MPI rank in one physical CPU
export OMP_NUM_THREADS=4 or 2 # 4 for Xeon Phi 2 for Xeon

mpirun -np {cores} $AMBERHOME/bin/pmemd.midpoint \
-O -i mdin -o mdout -p prmtop -c inpcrd
#note cores is number of physical cores not hyperthreads


Without hardware specific or OpenMP optimizations:
./configure -intelmpi intel


cd $AMBERHOME/src/pmemd.midpoint/src
make parallel Run in a bash shell:

mpirun -np {cores} $AMBERHOME/bin/pmemd.midpoint \
-O -i mdin -o mdout -p prmtop -c inpcrd

#note cores is number of physical cores not hyperthreads