AmberTools17 is now available!
AmberTools consists of several independently developed packages that work well by themselves, and with Amber itself. The suite can also be used to carry out complete molecular dynamics simulations, with either explicit water or generalized Born solvent models.
The AmberTools suite is free of charge, and its components are mostly released under the GNU General Public License (GPL). A few components are included that are in the public domain or which have other, open-source, licenses. The sander program now has the LGPL license.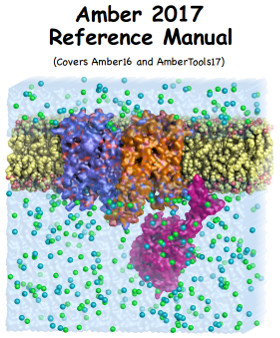 Option 1: Getting source code
This is the traditional way AmberTools has been distributed. It is recommended for most users, and is the requried path if you also want to get Amber. AmberTools is distributed in source code format, and must be compiled in order to be used. You will need C, C++ and Fortran90 compilers.
The Reference Manual is available in pdf format, and included in the distribution. It may help you to see if AmberTools meets your needs.
Option 2: Binary distribution via conda.
This is a new option: Users of the conda python system can install a serial, binary (pre-compiled) distribution as follows:
conda install ambertools=17 -c http://ambermd.org/downloads/ambertools/conda/
This should work for Linux and MacOS systems, with python versions 2.7 to 3.6; but it is experimental, and does not provide access to parallel or gpu-optimized codes. This provides a simple way to get started with AmberTools, and to install it into many workflows, but it is not a substitute for the full source-code distributions listed above.
Option 3: Binary distribution without conda.
Non-conda users can follow:

  wget http://ambermd.org/downloads/install_ambertools.sh 
  # Or: curl http://ambermd.org/downloads/install_ambertools.sh -O 
  bash install_ambertools.sh -v 3 --prefix $HOME --non-conda 

To see more options:

  bash install_ambertools.sh -h 

The caveats listed above for Option 2 are relevent here as well.